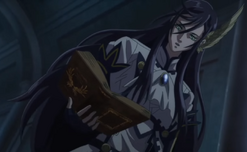 Ragnarok is mankind's final struggle against the gods. Explained in the Valhalla Constitution, article No. 62, paragraph 15 of the super special clause, it is a series of one-on-one showdowns between the gods and mankind.
Thirteen combatants are put forth by each side and engage each other in one-on-one battles to the death. The first side to achieve seven victories wins. If the gods win, humanity's fate is sealed, but if mankind wins, they are allowed to live for another 1000 years.
Those who are defeated in Ragnarok have their souls destroyed and their bodies reduced to dust. This prevents reincarnation, resulting in cessation of existence.
The fights take place in the Valhalla Arena.
History
[
]
As the gods were deciding on mankind's destruction, Brunhilde took the humans' side and suggested the start of Ragnarok. The gods, seeing the suggestion as pointless, refused to take part in it, saying that it was a waste of time. However, Brunhilde taunted them, declaring that they were "chickening out". The mere suggestion that they feared direct conflict with mortals caused such anger among the gods that they decided to accept Brunhilde's proposition, if only to put her in her place. Thus began Ragnarok, the final confrontation between Man and God.
Rounds
[
]
To see the chapter length of the rounds: List of Rounds
Round #1

Lü Bu vs Thor

Victor: Thor
Match Length: 16 Minutes and 28 Seconds
Deciding Move: Geirröd Thor's Hammer
Humans 0 - 1 Gods
Round #2

Adam vs Zeus

Victor: Zeus
Match Length: 7 Minutes and 13 Seconds
Deciding Move: Straight Punch
Humans 0 - 2 Gods
Round #3

Kojiro Sasaki vs Poseidon

Victor: Kojiro Sasaki
Match Length: 13 Minutes and 7 Seconds
Deciding Move: Swallow Tiger Combo, Thousand Blades
Humans 1 - 2 Gods
Round #4

Jack the Ripper vs Heracles

Victor: Jack the Ripper
Match Length: 26 Minutes and 57 Seconds
Deciding Move: Dear God
Humans 2 - 2 Gods
Round #5

Raiden Tameemon vs Shiva

Victor: Shiva
Match Length: 11 Minutes and 16 Seconds
Deciding Move: Devaloka: Final Act Flame Dance
Humans 2 - 3 Gods
Round #6

Buddha vs Bishamonten/Zerofuku/Hajun

Victor: Buddha
Match Length: 21 Minutes and 37 Seconds
Deciding Move: Mahapari Nirvana
Humans 3 - 3 Gods
Round #7

Qin Shi Huang vs Hades

Victor: ?
Match Length: ?
Deciding Move: ?
Humans ? - ? Gods
Remaining Fighters
[
]
List of fighters who have yet to participate in Ragnarok:
Gods
[
]
Humanity
[
]
King Leonidas
Nikola Tesla
Grigori Rasputin
Sakata Kintoki
Incidents
[
]
Round Two: Shiva was originally planned to fight in the second round, while Zeus would have fought last. However, Zeus took Shiva's place.
Round Six: Initially, Buddha was in the gods' list of fighters, but he betrayed them to fight for humanity. The gods sent another one of their list, Bishamonten, to deal with him
Trivia
[
]
The super special clause was originally added as a joke in the Valhalla Constitution and was never seriously considered before, since, under normal circumstances, an average human cannot physically harm, let alone kill, a being with divine blood.
As it was never meant to take seriously, the rules created loopholes that both teams took advantage.